The position of the anchor point largely determines the distance and the way someone falls. With the help of the anchor point positioning it can be determined how someone falls and how. This way, possible lower obstacles can be taken into account.
If possible, the employee must always use an anchor point at shoulder height or higher (factor 1 or 0). A higher anchorage point (factor 0) will reduce the fall distance and thereby significantly reduce the risk of damage to the body as a result of a fall.
Fall factor 0 – The anchor point is above the employee and the lifeline is (continuously) tightly stretched. This position of the anchor point results in the shortest fall distance. The SRL fall arrest device operates almost immediately in case of a fall.
Fall factor 1 – The anchor point is at shoulder height of the employee. This results in a fall distance of at least the full length of the lifeline before the fall arrest device comes into operation.
Fall Factor 2 – The anchor point is located at the height of the ankles or the feet of the employee. In this case, the employee will fall at leasttwice the length of the lifeline during a fall before the fall arrest device comes into operation. That is why the general advice is to always (directly) anchor above the employee if possible.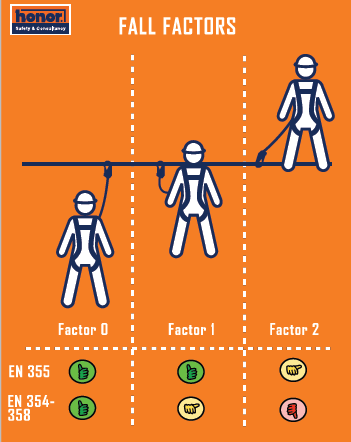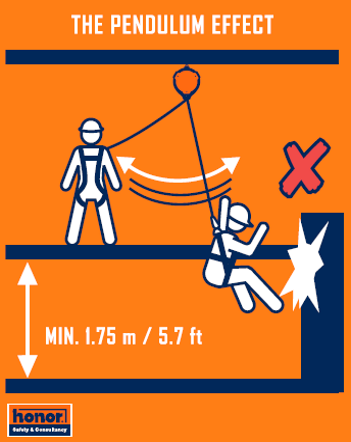 The pendulum effect
In addition to the height and position of the anchor point, the position of the lifeline must also be taken into account. If the lifeline is not directly anchored vertically above the employee, the employee will swing or swing in the event of a fall. With this pendulum effect it can be injured by hitting the ground or an obstacle to the side. If it is not possible to position an attachment point vertically directly above the employee, a 3-dimensional system or two attachment points on both sides of the employee can be used to prevent the pendulum effect.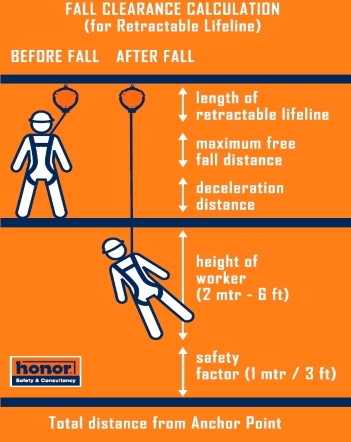 Fall distance with a fall arrest device (SRL)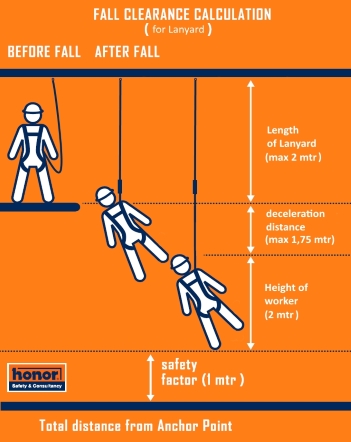 Fall distance with a lifeline
Resume
A SRL drop stop device where the roll-in and roll-out cable is constantly tightly tensioned and that is anchored directly above the head of the employee is the best solution.
Especially when working at a relatively low height (up to about 7 meters high). In that case, a regular lifeline does not intervene quickly enough to halt the fall in time and completely, so that the employee will not come to a halt quickly enough before he hits the floor. In addition to a very fast reaction time (due to the tightly tensioned line), a SRL fall arrest device also ensures that the forces on the body are much lower, because the fall speed slows down very quickly but gradually.