The right carabiner as a connector on safety or rescue equipment is essential! HONOR therefore provides a broad range of high-end carabiners to attach for your personal protective equipment (PPE) as fall arrest systems, rope access systems, rescue systems, descenders, evacuation systems and stretchers to their anchor points.

Help and advice?
For each application, the appropriate fastener as D-form, KST (Climbing), pear-shaped, Steiger hooks, snap hooks, and so on with the correct size aperture. Please contact us to find the right connector for your work.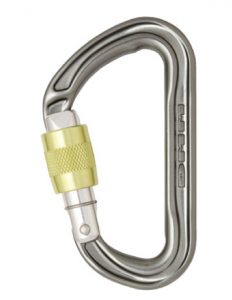 Locking mechanism carabiner
Screw Lock
The original, first double-action mechanism port. No automatic locking and it has several drawbacks. This was a reason for HONOR Safety & Consultancy for not advising more from 1995.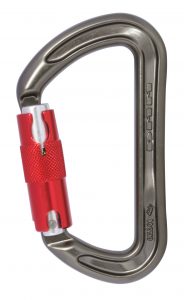 Locking mechanism carabiner
Kwicklock
The Kwicklock is an automatic locking system and has the fastest gate locking mechanism to work. It is a convenient solution to reduce the chance that the gate is left open accidentally.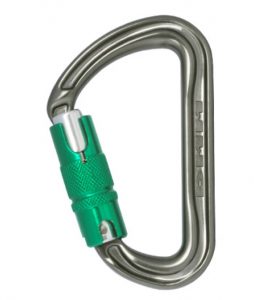 Locking mechanism carabiner
Lock Safe
The triple action of the Lock Safe reduces the opportunity to open the door accidentally. This is an important step forward in the improvement process of the safety of the automatic locking connectors.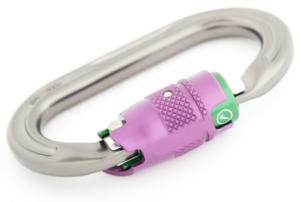 Locking mechanism carabiner
Durolock
The Dual Rotor Lock was designed to reduce the risk of unintentional opening of optimizing the gate and security. The complex, yet easy to manipulate port needs four different actions to open. Once released, the port returns to the lock position. It is a perfect solution for complex security applications.

Art. nr.
Model
Type
Material
Vergrendel mechanisme
Sterkte (hoofdas)
Gewicht
R024.001.008
A823
D-shaped
Aluminum
Kwiklock
32 kN
79 g
R024.001.010
A827
D-shaped
Aluminum
Locksafe
32 kN
79 g
R024.001.012
A843
KST
Aluminum
Kwiklock
30 kN
87 g
R024.001.014
A844
KST
Aluminum
Durolock
30 kN
102 g
R024.001.015
A734
Pear-shaped hook
Aluminum
Kwiklock
22 kN
350 g
R024.001.009
C813
D-shaped
Steel
Kwiklock
45 kN
245 g
R024.001.013
C843
KST
Steel
Kwiklock
45 kN
278 g
R024.001.005
C734
Pear-shaped hook
Steel
Kwiklock
35 kN
740 g
R024.001.030
Karabijnhaak
Fixed eye, ,

rotatable

Steel
Snap
22 kN
387 g
R024.001.031
Karabijnhaak met Service Indicator
Fixed eye, ,

rotatable

Steel
Snap
22 kN
418 g
R024.001.020
S843
KST

Stainless

steel
Kwiklock
40 kN
255 g