Safety is a mentality! In practice, safe working does not always seem obvious. People do their work and are used to a certain working method and routine, labor and safety equipment can be experienced as a difficult obligation. Courses and training can help to get the focus back to working safely.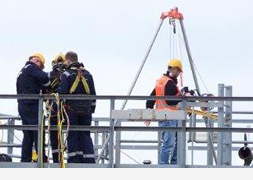 Correct (application of) work equipment
It is wise to evaluate regularly; "With our approach, are we now following the best deployment procedure, are we using the right safety equipment and are we using them properly?" Increasing knowledge and insight with regard to these subjects leads to better and safer working. HONOR offers in-house developped, tailor-made courses and training. The purpose of the courses is to motivate your employees intrinsically to correctly apply and use the protective equipment.
Goal oriented courses and training
We believe that the preliminary assessment of the work and the right resources and materials required are the critical factors for optimum safety. HONOR has developed a number of goal oriented courses and training courses for the various safety systems in our program.
The HONOR courses and training courses are given in our instruction room in Almere, at a recognized training institute or at your location. HONOR has a number of 'standard' courses on the program. In addition, we develop courses that are tailored to your specific situation or wishes. Think for example of coordination between the different business disciplines (safety, production, maintenance and purchasing) but also facilitating training / instructing of employees and warehouses.