HONOR Safety & Consultancy offers various solutions during temporary work at height and depth, when descending and lifting people. This happens in particular in confined spaces such as tanks, ships' holds, reactors, pits and from quay edges, platforms and so on. There are high demands on lowering and lifting people and special people winches or man riding winches (MRW) are applied. The regulations are included in the European Directive 2001/45/EC (work equipment intended for temporary work at height), the Machinery Directive 2006/42/EC and EN 1808.

STAR-series man riding winches (MRW)
Our STAR-series man riding winches (MRW) have been specially developed to allow people to descend and lift people safely from height, depth and confined spaces. These man riding winches are always used in combination with fall arrest blocks (devices), often with integrated rescue winches (Recovery Blocks). In the event of a calamity, a victim can be rescued immediately in a controlled manner without the need for a manhole guard or rescuer to enter the risk area.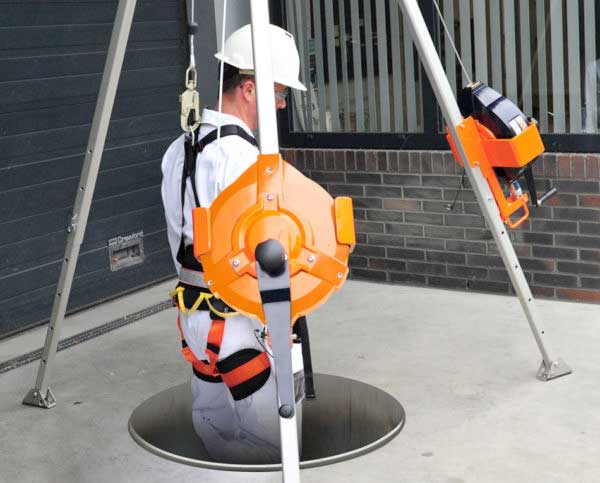 STAR-series recognized as Good Industrial Design by a jury of experts
The STAR-series devices, developed by HONOR Safety & Consultancy and produced in Almere, received the Good Industrial Design recognition on behalf of the three Industrial Design Universities in the Netherlands in 2015 during the Dutch Design Week (largest design event in Northern Europe). A Good Industrial Design recognition is not a prize but a quality mark as recognition for good craftsmanship. Products that receive an award meet professional design standards: the product does what it is intended to do (technical functionality); is easy to use and safe (ergonomics); it is different from other products (originality); it looks good (design) and meets environmental requirements (respect). A product that meets these requirements is eligible for recognition.
All STAR-series devices are modular and can be combined on their own with other HONOR Safety & Consultancy safety equipment (fall protection systems and anchor points).