HONOR offers total security solutions. In addition to product development and advice, we also provide the installation of the fall protection system, which is carried out at your location by the HONOR service team.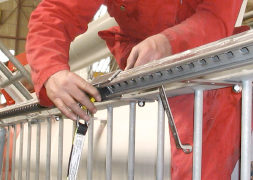 Installation process

HONOR provides the entire process consisting of: advice, surveying, construction calculation, production, logistics, assembly and delivery with user instructions.
HONOR can take care of the following for you

:
• Anchor Facilities
• Fall protection systems (permanent and temporary)
• Evacuation & rescue systems
• Etc.
HONOR provides the entire process consisting of:
• Project management
• Preparations & engineering
• Construction calculations
• Process planning
• Production
• Transport & delivery
• Assembly & installation
• Instructions for use
• Markers