The HONORail SafeAccess system is permanently installed on objects (buildings, structures, etc.) where work has to be carried out at height and where freedom of movement is required in three dimensions.
Trolley
The trolley for the HONORail SafeAcces is in most cases permanently installed on the rail – so the system is always ready for use. The system can also be equipped with detachable trolleys.
Applications
The HONORail SafeAccess system consists of an aluminum rail attached to the structure of an object. Examples of this are loading stations, walkways, roofs, hangars, conveyor belts, (bridge) cranes, etcetera.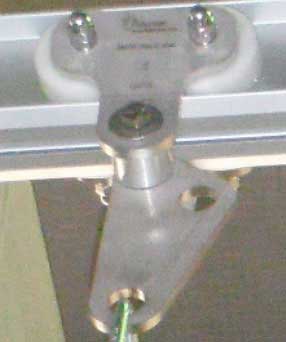 System
The safe HONORail SafeAccess system allows the user to move freely along the rail system without having to disconnect (from the rail) at any time. The HONORail SafeAccess system in combination with fall arrest devices (also with automatic descent function!) offers users safety and freedom of movement in three dimensions. The system is suitable for horizontal use and inclined slopes (up to 15 degrees) and is certified for up to 3 users. The maximum distance between two attachment points is 6 meters. The maximum distance between a division in the rails and the attachment points is max 1.5 m.